How is the ham radio hobby doing? Is it thriving? Is it dieing? What is the State of the Hobby? That is a question that I'm sure all of yall have asked yourself at one time or another. Dustin Thomas, N8RMA, asked himself last year, this question and decided to see what others thought as well.
Dustin is an analyst by trade, so he took the information that he wanted to gather, turned it into a survey, and made a really nice page displaying his findings. Last year, I stumbled on his survey and decided to partake in it. 687 other hams did as well and he got some interesting information. Granted, 688 entries on his survey is only a very small percentage of the 700+ thousand hams that we have in this county, but it was still pretty interesting to read his findings.
Click here to see what his findings were for his 2017 State of the Hobby Survey.
This year, Dustin, decided to do it again with hopes of having even more participation. He also included some other questions. I am looking forward to seeing the results this year as well. If you would like to participate in the survey this year, Click Here.
Surprising Findings
License Class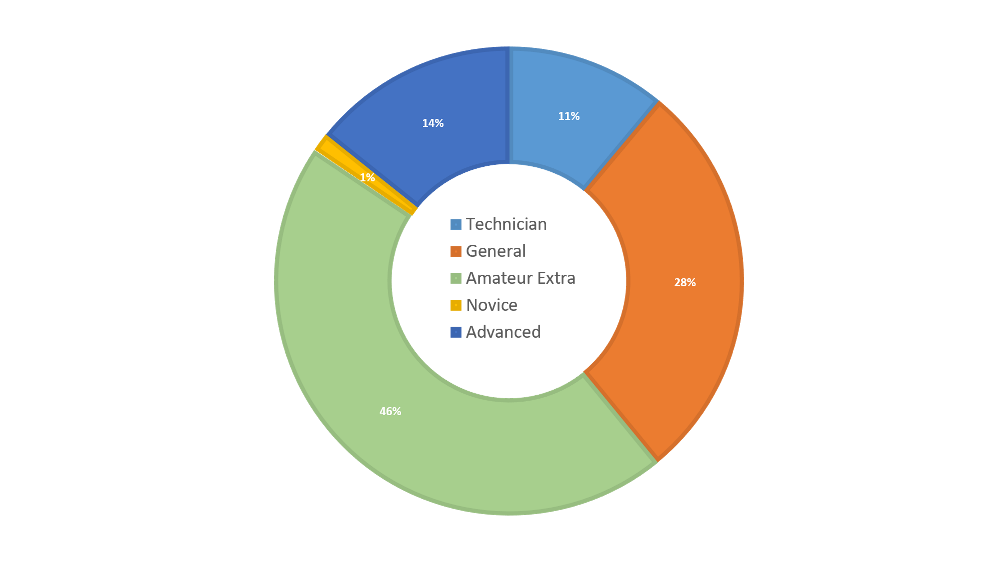 Of the 688 participants that he had, 46% of them were extra class operators. Technician class operators were only 11% and were the second smallest section. This really surprised me, because the majority of amateur radio operators today are Technicians.
Age and Experience Of Operators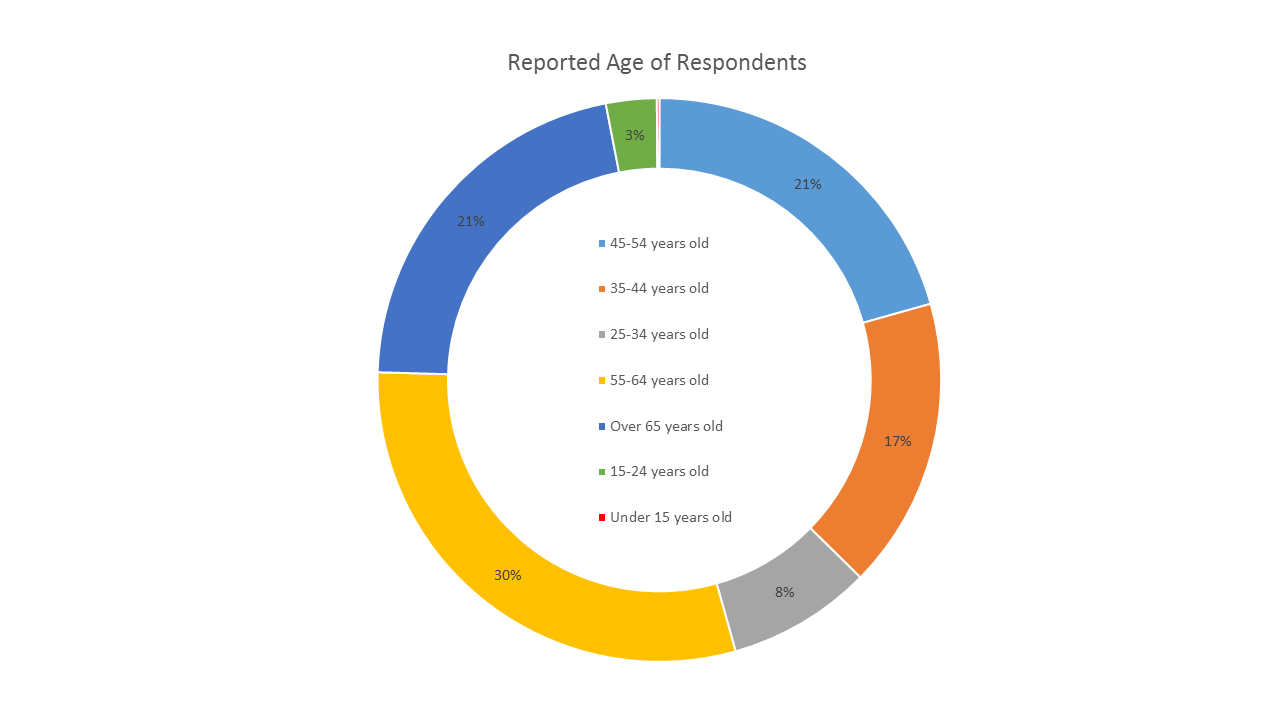 Something that is kind of sad, but good as well, is that the average length of being a ham was 32 years and 23 years being an active ham! This is sad to me because this is one of the things that I touched on in a recent post that the hobby seems to be getting older and that young hams were few and far between it seems to me. Of course, I realize that this is such a small percentage of all hams and that is skewing the numbers somewhat.
Speaking of age, the biggest group of people that responded to this survey was in the age range of 55-64 years of age! 72 percent of the people that took this survey were 45 or older!
Does this look like the hobby is getting older to you?
Problems Facing the Hobby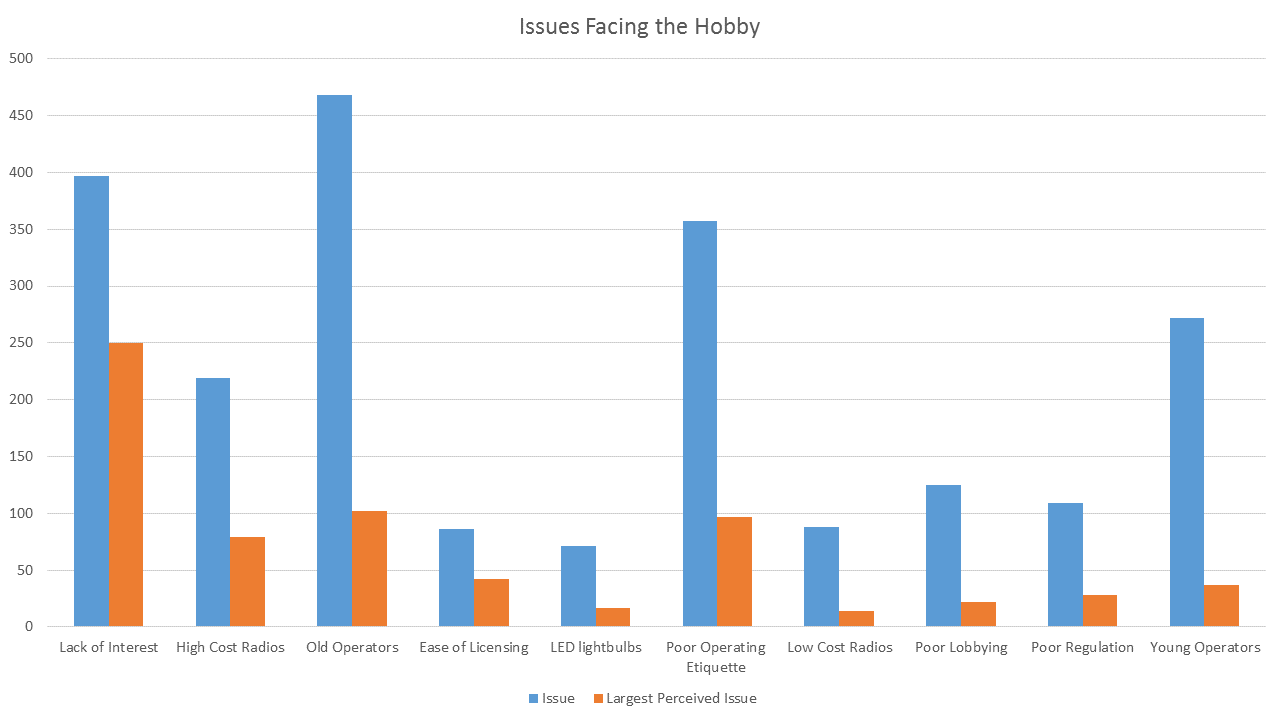 There were several options to choose from when asked about the problems the hobby is facing. Of those options, the top answer was Old Operators. He says this does not mean the average old ham, but the cantankerous type. I can totally see this as being an issue. With any hobby, if the "older" members treat the "younger" members as outsides, the "younger" ones won't hang around.
As far as the highest perceived issue facing the hobby is lack of interest. Again, I can totally see this! Of the 100+ people that I have helped get their license, only a handful of them is still active in the hobby, and some of them have even let their license lapse.
What Will The Results Be Like This Year
I am really interested to see if Dustin gets a bigger response this year and to see what his finding are. Please, take the survey, it only takes a few minutes, and let's help him get a great response.
Until next time
73 de K5CLM
Further Reading
Creator and Owner of Everything Ham Radio
Owner of 2xC Products at 2xcproducts.com